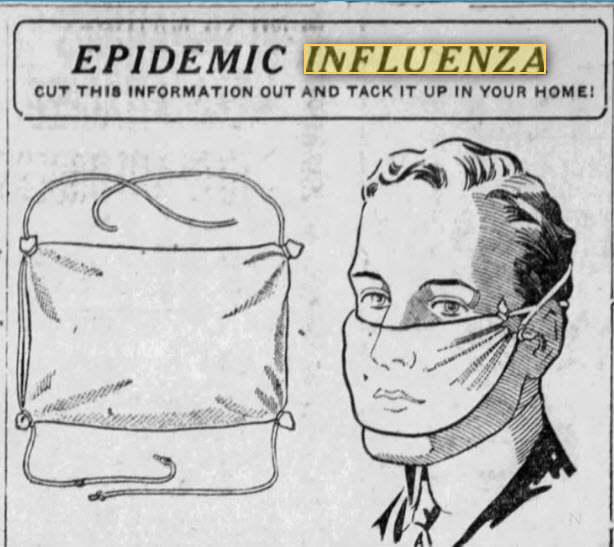 As the world begins the stages of the "new normal" and we slowly get back to interacting with people it's made me wonder about how my family handled things during the Spanish Flu.
Just as some background… all four of my grandparents lived during the period that the world was dealing with the Spanish Flu. At that time, they ranged from seven to eleven years of age.
For my own background, during the weeks since my father passed away, I've spent most of my time at home. I have only made a few trips to the drive-through post office, so I literally have had next to no contact with the outside world.
When I did finally go out about a week ago, it felt odd to me to be in a store. It made me feel a bit uneasy, and I was happy to go home. I have seen members of my family, in particular, my sons, and I have to admit I did hug them, but I don't know that I'll feel the same about other folks that I would have hugged in a heartbeat before.
I've said for years that my family didn't hug until my sister-in-law Donna came on the scene some 29 years ago. I always chalked up our lack of hugging to the fact that both sides of my family were very English. I'm not saying that in a bad way, but for instance, my mother would speak about her one set of grandparents as being firm believers that children should be "seen but not heard." So I always thought that perhaps that starched and straight-laced background might have been the reason we didn't hug.
My dad's side wasn't quite so uppity, but still, I don't remember hugging being a thing.
So I set out to look at the Edmonton Journal during 1918 to see what the mood was and what happened. (I have a Publisher's Extra Subscription at Newspapers.com, so this gives me access to the Edmonton Journal.)
As the flu had hit eastern Canada already, on October 12th, 1918, the Edmonton Journal spoke of the steps that were to be taken to prepare for what they felt was imminent.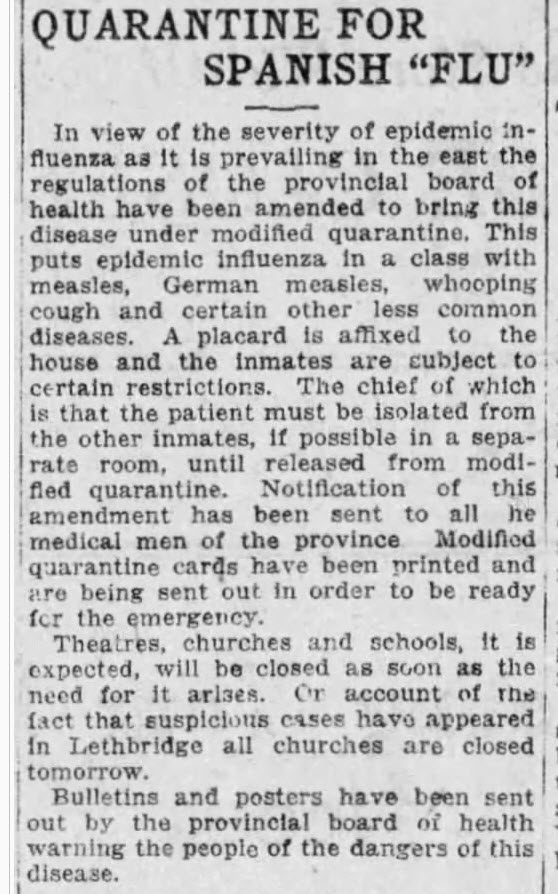 Just two days later, there were eight cases reported in Alberta. One case was just outside of Edmonton in the town of Legal, Alberta. Doctors across Alberta were asked not to perform surgeries that weren't urgently needed. Folks that worked at stores were told to advise their supervisor if they felt sick with symptoms similar to grippe so that they could be sent home.
By October 15, 1918, the front page of the Edmonton Journal is filled with stories of schools and theaters closing and how many cases of Spanish Flu and deaths that have occurred in Canada.
Page 2 of the October 21st edition showed that things were getting worse.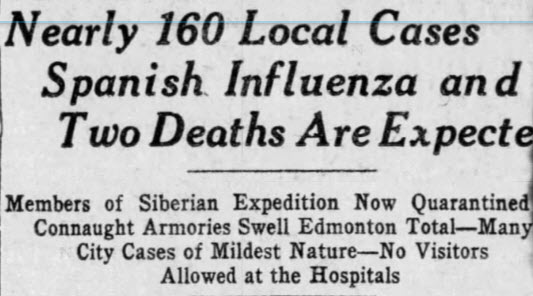 Also, in that same paper, there is an article telling how the Spanish Flu would be handled in the Beverly area which wasn't yet a part of Edmonton where my grandmother Mary Beaton (age 9) and grandfather, Frank Middlebrough (age 8) both lived in the same neighborhood.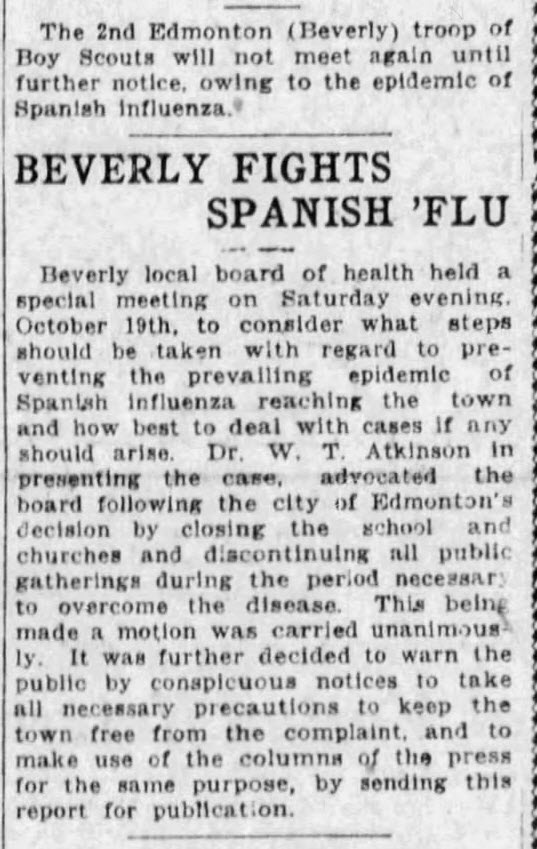 With articles like this one published on October 23rd, of course, parents would be concerned for their children.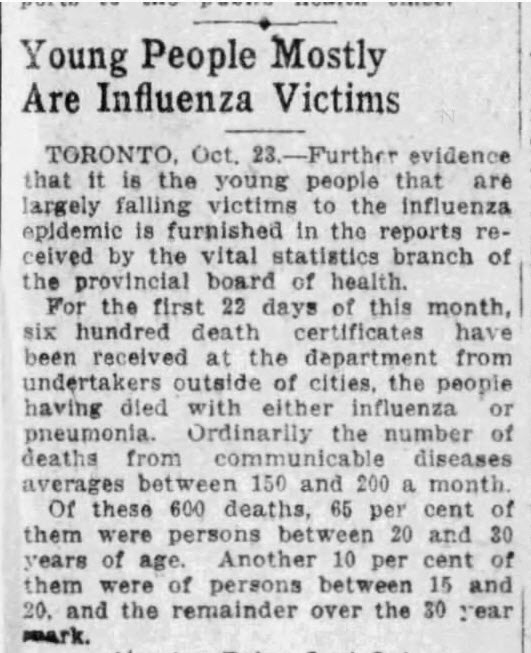 On October 24th, The Edmonton Journal reported that the cases of influenza were sometimes doubling day over day. Then on October 25th, the paper noted that the seventh death had occurred in Edmonton, and it was now mandatory to wear a mask outside the home.
On October 26th, a $50 fine for not wearing a mask was implemented. That would be equal to $725.53 in 2020 terms (https://www.in2013dollars.com/).
Also, on October 26th, there were now twelve reported deaths in Edmonton and 600 cases. This was just in 12 days since the first case was reported.
I think my great grandparents might have cut this article out of the Edmonton Journal for quick reference?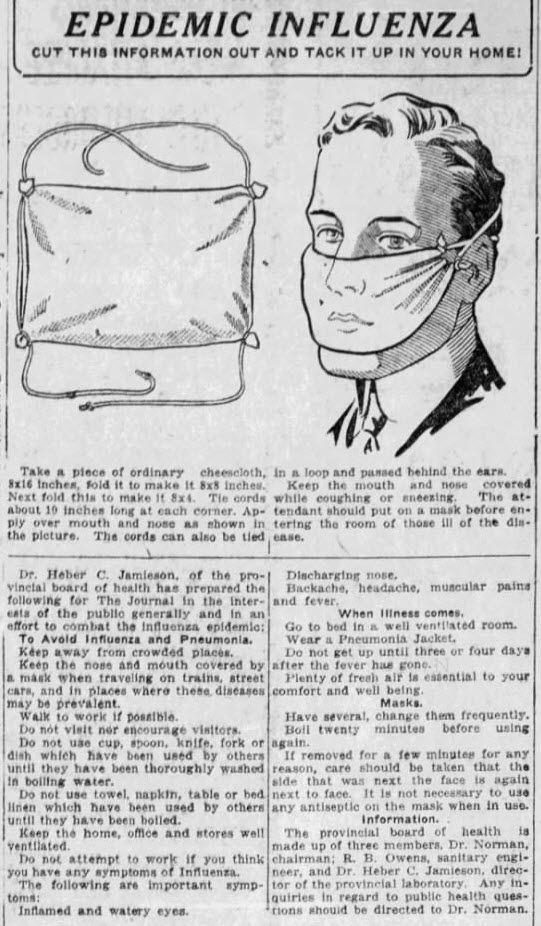 By November 2nd, the number of cases had reached 8000 in Alberta, and just 3 days later, that number had increased to 9206, as reported by the Board of Health for Alberta.
For my father's side of the family, my great grandfather's nephew, Jess Vincent, died on November 7th. Because my great grandfather was away at war, my great grandmother, as well as her mother-in-law and sister-in-law, were left to deal with funeral arrangements.
Then as suddenly as the Flu started, the number of cases began to slowly decrease, and by the end of November, things seemed better. Although there continued to be cases reported in the news of The Spanish Flu into 1919 and 1920, it was never to the same degree as it had been before, at least not in Alberta.
One of the things that might have helped the children during this unsettling time was a program The Edmonton Journal had started in December 1916 called Farmer Smith's Rainbow Club. (It would later be called "Editor Farmers' Rainbow Club.")