This project started with a conversation with my son. When I passed away, I was telling him that he and his brother better not just put the things I have in my glass cabinet in a yard sale or take them to the thrift store or, heaven forbid… the dump. I told him that many of the cabinet items are family heirlooms that have been passed down.
He made a good point, as sometimes sons do. He asked me how he would know that?
This made me thinking about what I could do to correct that. So here is the idea I came up with, and it actually could be a two-step approach if I want it to be.
Family Heirloom Album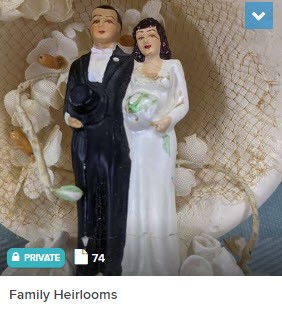 So my first step was to create a "Family Heirloom Album" in my FOREVER account. This is easy to do. If you have an account, great, or you can accept my invite HERE. (if you need help, please contact me).
The next step was to take photos of all the things I have in the glass cabinet and upload them to my account. (If you have the FOREVER app set up on your smartphone, all the photos will automatically upload ). But I didn't stop there. I went through every room in the house and took photos of objects that I found, and I continue to do that as I find things that I've missed.
Once you have the photos in your FOREVER library, you can use the bulk organizer and put them all in an album or albums and tag them. In this case, I put them in the Family Heirlooms album, and I've tagged them all heirloom.
Now I'm all set to write the stories of the things in the album.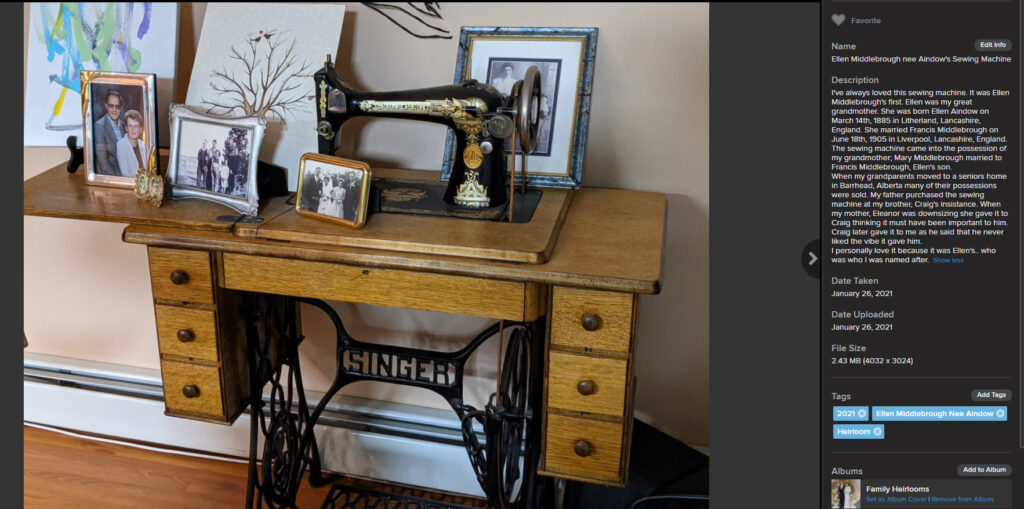 The above is how it looks in the album. I know it's tough to read (you can click the photo to make it larger), so here's a close-up of what I've written.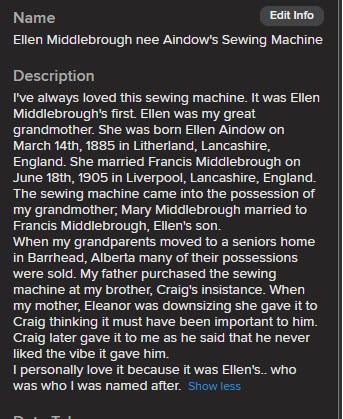 Here's another example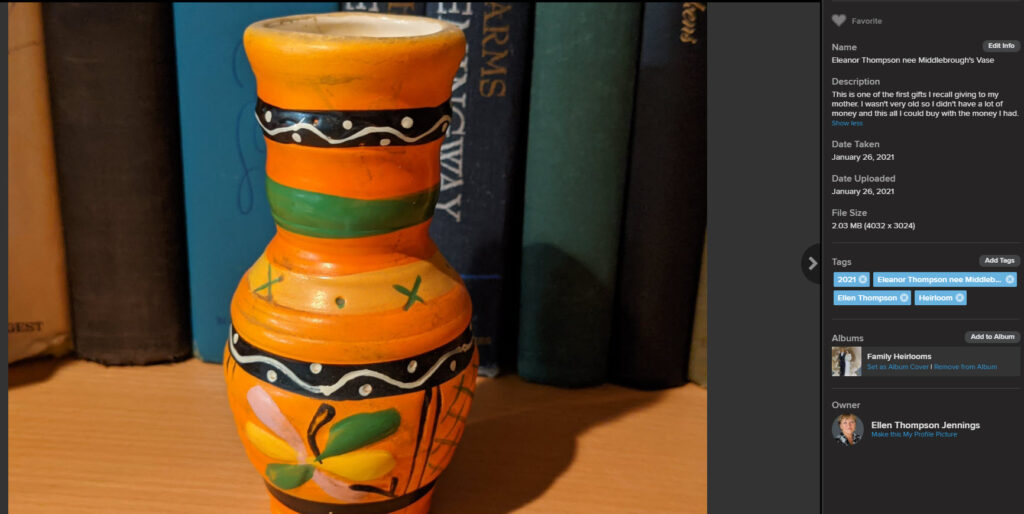 I wrote on this page, "This is one of the first gifts I recall giving to my mother. I wasn't very old, so I didn't have a lot of money, and this was all I could buy with the money I had."
These are just a few examples, but you could take it one step further by creating a FOREVER AutoBook or FOREVER PhotoBook. (remember I said it could be a two-step plan?)
Create a Book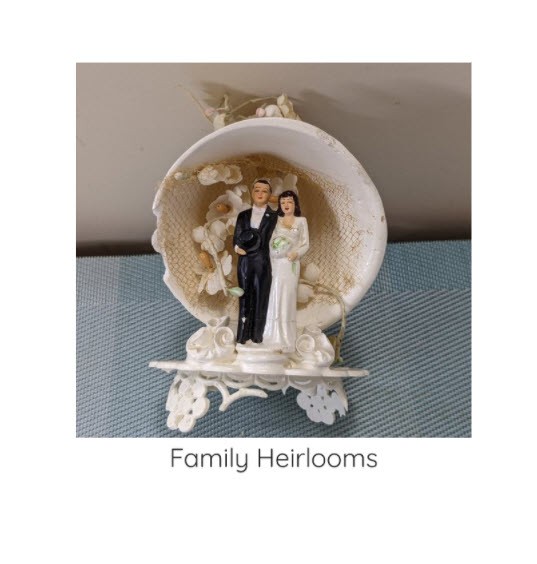 Let me show you how easy it is to create an AutoBook. (In fact, I decided to make a video and post it on YouTube, and you can find that HERE.) But below are my written instructions.
Go to your account and choose Create and Print. You'll see a dropdown and on the left side is AutoBook. I choose the standard layout, but you can also create a layflat. Then I decided that I'd create a softcover book, and I really like the 10×10 size.
It then prompts you to get your photos. That's super easy because they are all in my Family Heirlooms album on FOREVER. Then I choose the photos I want in the book. Once I've selected them all with a click of a button, it creates my book. (It literally takes second.)
I entered the name of my book, Family Heirlooms, and I can make some additional changes. So I can move photos, change the design layout for each page, enhance photos, enlarge the photo and even delete something that I change my mind on.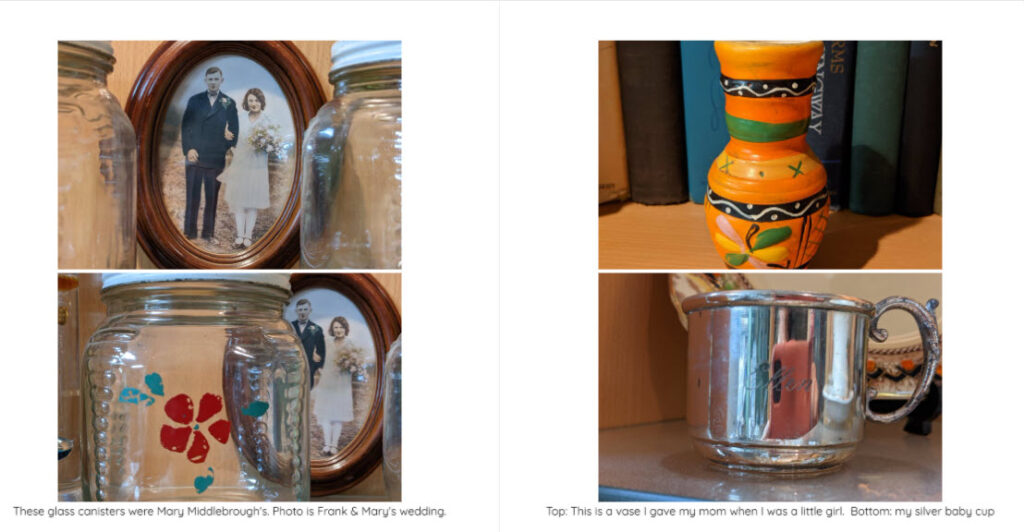 Here's the best part. Remember those stories that I wrote about each item? Well, as I'm looking over the book pages, I can add those stories to the pages. In the case of Autobooks, you can't put a lot of text on a page. Still, you can add more pages as an extra text page. So I added a page that explains in more detail about the items that I think need more explanation, or I could also add a page saying more information can be found in my FOREVER Album called Family Heirlooms. I add text just by copying and pasting it into the page.
Now, if I'm ready to print the book, the regular price is $29.99 US (based on the number of pages I have), but because printing is on sales (there are sales often), I can purchase this book for $15 US, and there are other ways I can save even more. Currently, this book has 21 pages, so as you can imagine, the price would be higher as I add more pages. But again, I can help with advice as to how you can save on that.
For me, this book is priceless because now I can give something to my sons, so they know where these things in the cabinet came from. Something else I can do is if I were to downsize in the future, I could give those items away, and I still have the book with the stories of the items.)
As I mentioned earlier, I've put together a quick video that I've posted to YouTube showing how I created the book if you'd like to have a look. You can find it HERE.
Be sure to tell me how you're using your FOREVER Storage to preserve your family history. I'd love to hear about it and try out the AutoBook it fun to see what the system creates with your photos.