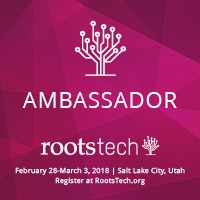 As the owner of Shop the Hound, I go to a lot of genealogy conferences and trade shows. So one of my favorite things is to go to is  Roots Tech in Salt Lake City, because it gives me an opportunity to be a Genealogist.  So imagine my excitement when I was invited to be a Roots Tech Ambassador. What an honor and a privilege to be able to spread the word about this fantastic event.
If you're not familiar with Roots Tech then let me tell you about it. The first Roots Tech event was in 2011. I'm not sure where or how I heard of it but I remember telling my husband about this genealogy event with a techie twist and he said; "let's go" and that's just what we did. At the first event, there were 3000 attendees as I recall. Now that number has grown to something like over 25,000 and from only using a small portion of the Salt Palace to taking over the entire complex.  Also, with remote access from all over the world, it's become the largest genealogy conference on the globe.
But don't let the large numbers of people scare you. The Salt Palace is a huge space with 515,000 square feet and 9 halls so although at some moments it's crowded (like when the keynote speaker is finishing) it doesn't feel overwhelming.
So each morning you begin with a keynote speaker. Over the years there have been many such as; Laura Bush, Buddy Valastro, LeVar Burton, Canadian Property Brothers, Jonathan and Drew Scott, CeCe Moore, and many others.  Then it's off to sessions located throughout the Salt Palace. There are 100's of different sessions; sessions on how to get started for the new genealogist, to innovative tools, DNA and that's just the tip of the iceberg.
Then there is the marketplace. One of my favorite places to go; and I go there several times throughout Roots Tech. Every DNA company is there and I usually bring home a suitcase full of DNA kits. There are vendors there to help you with genealogy in far away lands  (can you tell I've been thinking about going back to my husband's roots in Italy) and booths that offer tools and books of every description. With 400+ booths you'll be sure to find something that will help you with your own family history hunt.
Best of all there is a community.  These are your people, people who have the same interest as you. I can't tell you the number of stories I've told and listened to while waiting for a keynote speaker or a session to begin. I've met some interesting people with interesting stories to tell. I've talked DNA with experts sitting right beside me. Often you learn as much from each other as you do in a session.
So if I'm gotten you interested in Roots Tech then you'll want to book your hotel as soon as possible as the closest hotels fill up fast. Stayed tuned as we get closer to that date of February 28–March 3, 2018. I'm getting excited.