A portion of all revenue generated by Weekly Treasurers and other links on our blog is given back to the genealogy community through The DNA Angel Project™ and to the Alzheimer's Society
I'm able to do this because this page contains affiliate links and I will be compensated if you make a purchase after clicking my links. This does not increase the price you pay as a consumer.
---
DNA Deals
MyHeritage Canada Offer
FREE Shipping with you purchase 2+ kits
---
MyHeritage US Offer
DNA test kits and standard shipping is FREE!
---
MyHeritage AU Offer
MyHeritage UK Offer
AncestryDNA Canada Offer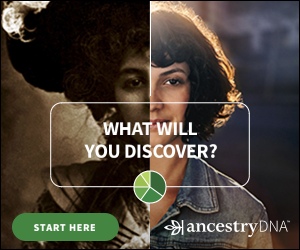 With 18 million kits in the Ancestry database, you need to have your DNA tested here. I'm always looking for cousins.
---
AncestryDNA U.S. Offer & Genealogy Offer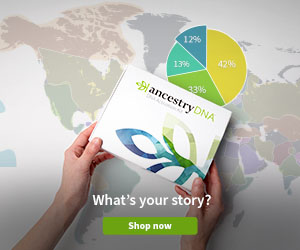 ---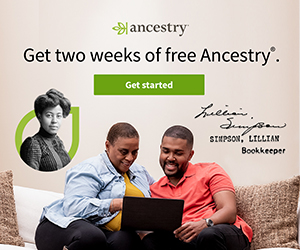 AncestryDNA AUS Offer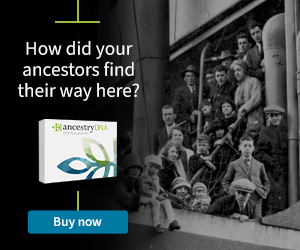 AncestryDNA UK Offer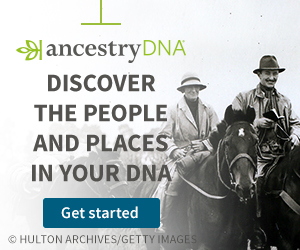 ---
23andMe
Health Happens Now! Get 150+ personalized DNA reports when you buy a Health + Ancestry Kit today.
---
AncestryHealth
Introducing AncestryHealth®: Actionable Health Insights for You and Your Family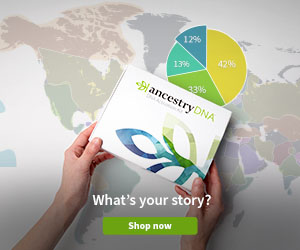 ---
Family Tree DNA
---
DNA Hunter
Website Offers
MyHeritage Photo Enhancement & Coloration
Enhance and colorize your black & white photos at MyHeritage. I love how easy it is. Learn more HERE and then go to the Home Tab
Now you can take your images one step further and with MyHeritage's partnership with Mixtiles, you can decorate your home.
Genealogy Search Sites
Learning about your ancestors is learning a bit about yourself. How long has your family lived here? When did your family immigrate? Where did they come from? These are all questions that can be learned by doing family history.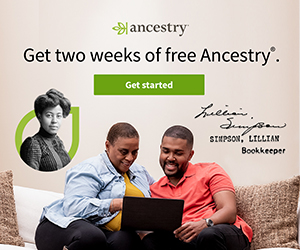 ---
---
---
Take A Course
Make 2020 the year you learn something new. Whether it's genealogy, writing, art or craft, entrepreneurship. If you can think about it there's probably a course. There is something for everyone.
Start A Blog
A blog starts with a website and a website name. Purchase your domain at namecheap
#CreateFromHome movement – up to 100% off the product range!
---
Meet Cora and Harry. I don't know who there are in my genealogy but Vivid-Pix's RESTORE program made their photograph so much crisper.
You can also use RESTORE on your documents to enhance them and make them legible.
Vivid-Pix RESTORE not only enhances your photos but it does the same for your documents. You can also transcribe them. You need to see what it can do. Watch the tutorials HERE. Give your photos and documents the Vivid-Pix Fix. You can try RESTORE right now? Fix 10 photos or documents for FREE
---
---
Did you know that British & Irish newspapers are available at Find my past?
Each week Find My Past adds new pages to their collection. To see what records Find my past has to offer just click the ad below.
---
---
---
Book Specials
What would you do if you lost everything? Money, reputation, status? It is a question Rachel Gilmore may soon have to face. The year is 1888 and England's economy has been hard hit. Liverpool's slums are overrun with those hoping to immigrate to Canada's brighter shores. Find out more HERE.
Order your copy of The DNA Guide for Adoptees. Written by Brianne Kirkpatrick and Shannon Combs-Bennett.
---
The long-awaited second edition of Blaine Bettinger's book is now available. The Family Tree Guide to DNA Testing and Genetic Genealogy Paperback Find it at Amazon.com or Amazon.ca
---
Tracing Your Ancestors Using DNA is now available from Amazon on Kindle and in paperback. Purchase it at Amazon.com or Amazon.ca
---
I readily admit I'm a bit of a DNA Nerd so when I heard about this book I just had to buy it. I want to test my DNA skills. You can purchase on Amazon.com or Amazon.ca
---
Handy Tools
Sync.com – Like Dropbox, but secure, and 100% private.
---
I Can Listen To My Grandparents Sing
You know that I love FOREVER for photo storage but now you can not only store photos and video but you can store audio. This is an audio of my grandparents singing The Old Rugged Cross. No, they won't win America's Got Talent but imagine how happy my father is to hear them again 48 years after they've been gone. I'd love to be your FOREVER Ambassador and help you save and share your precious moments. Sign up for your FREE 2GB account or msg me for more information at FOREVER.com Have a listen HERE.
---
---
Get more from your photos
Everyone has a photo with that stranger in the background, a car driving by, or a house behind us under construction.
Wouldn't it be nice to be able to take those unwanted images completely out of your picture, erase your entire background, or even change your background to make it look like you are somewhere else? Well, now you can do it all quickly and easily with Photo Clip.
InPixio Photo Clip Demo.
Launch Now!
---
I've been using Snagit for years and it literally gets better with each update. Some updates are free as part of your purchase but when it's a major upgrade then you have to buy a new one. This is a major update. What can it do? Capture your entire desktop, a region, a window, or a scrolling screen. (yes a scrolling screen not just what you have on your screen) You can even remove things within your capture. Don't take my word for it have a look (make sure you watch the video) and you can even try it for FREE. Find out more HERE
---
Webinars
---
Did you know that some Legacy Webinars are FREE?
No Purchase Necessary
Just search FREE


Click the link below and then you'll see some of the webinars are identified as FREE
No need to sign up. But you just might want to get a subscription after you watch some.
Remember each week there is a new webinar and that webinar is FREE for one week.

Sign up for the webinar HERE or you can watch for 7 days after HERE
---
---
Watch Legacy Family Tree Videos When You Want
With literally hundreds of videos on just about every topic you can think of that relates to genealogy and DNA a subscription to Legacy Family Tree Videos just makes sense. Find out more HERE
---
---