A portion of all revenue generated by Weekly Treasurers and other links on our blog is given back to the genealogy community through The DNA Angel Project™ and to the Alzheimer's Society
I'm able to do this because this page contains affiliate links and I will be compensated if you make a purchase after clicking my links. This does not increase the price you pay as a consumer.
Introducing AncestryHealth®: Actionable Health Insights for You and Your Family
As family historians, we've all seen the benefits of sharing our stories. Your family's health history can be as impactful a contribution to you and your family. Ancestry is making a long-term commitment to preventive health ​in order to make a difference in people's lives… just as Ancestry has done with family history for the last three decades.  
---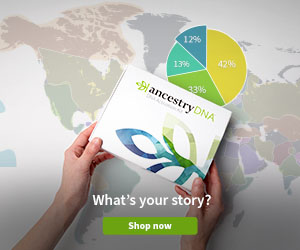 ---
Millions of people have tested with FamilyTreeDNA using their simple at-home cheek swab collection kit. FamilyTreeDNA specializes in a wide range of tests including Y-DNA, mtDNA, and Autosomal DNA to help people discover more about their ancestry.
Begin Your DNA Journey with FamilyTreeDNA!
---
Have you tested at another DNA company and you'd like to transfer your raw data to Family Tree DNA? You can do that HERE.
---
MyHeritage is having a Fall Sale. For Canadian's it's Reg. $109C now just $82C. For the US it's Reg $79 US now just $59 US.
This is the same autosomal DNA test kit as AncestryDNA and other major DNA vendors! To discover more cousins your DNA needs to be in more places.
Buy 2 kits and you get shipping for FREE.
---
AncestryDNA Canada Offer
---
AncestryDNA U.S. Offer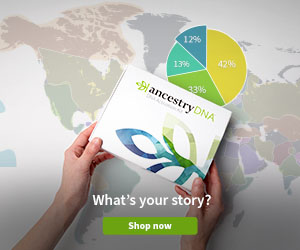 ---
AncestryDNA AUS Offer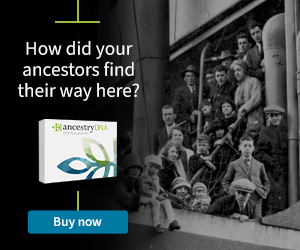 AncestryDNA UK Offer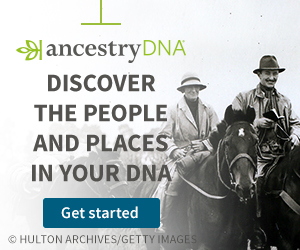 ---
Website Offers
---
Vivid-Pix RESTORE now has transcription capabilities. You need to see what this new update can do. Watch the tutorials HERE
---
---
Did you know that British & Irish newspapers are available at Find my past?
Each week Find My Past adds thoughts of brand new pages to their collection. To see what records Find my past has to offer just click the ad below.
---
---
Audie Murphy was one of my dad's favorite actors. Check out what you can find at Fold3.
---
With Canadian Newspapers
As much of my research was in Canada and England I never saw the value of a Newspapers.com membership. But now that they have so many Canadian newspapers, including the Edmonton Journal I've signed up.
---
Book Specials
The Bullet Journal Method: Track the Past, Order the Present, Design the Future
I don't know about you but sometimes I struggle between doing everything digitally and having a real journal. During a recent webinar, this book was mentioned. Available at Amazon.ca and Amazon.com
---
The long-awaited second edition of Blaine Bettinger's book is now available for pre-order. The Family Tree Guide to DNA Testing and Genetic Genealogy Paperback Find it at Amazon.com or Amazon.ca
---
Tracing Your Ancestors Using DNA is now available from Amazon on Kindle and in paperback. Purchase it at Amazon.com or Amazon.ca
---
---
I readily admit I'm a bit of a DNA Nerd so when I heard about this book I just had to buy it. I want to test my DNA skills. You can purchase on Amazon.com or Amazon.ca
---
Order your copy of The DNA Guide for Adoptees. Written by Brianne Kirkpatrick and Shannon Combs-Bennett. (From what I understand, as I haven't read my copy yet, this is a great resource for brick wall research. So I'll be reading to help solve my Beaton/Batten Mystery)
Handy Tools
---
I Can Listen To My Grandparents Sing
You know that I love FOREVER for photo storage but now you can not only store photos and video but you can store audio. This is an audio of my grandparents singing The Old Rugged Cross. No, they won't win America's Got Talent but imagine how happy my father is to hear them again 48 years after they've been gone. I'd love to be your FOREVER Ambassador and help you save and share your precious moments. Sign up for your FREE 2GB account or msg me for more information at FOREVER.com Have a listen HERE.
From This to This With FOREVER Print
Create some new wall art for your home with FOREVER Print. Now you can create not only Canvas Prints but Acrylic & Metal Wall Panels. So easy with beautifully crafted templates. Just choose your photos and print. Find out more HERE.
---
---
Get more from your photos
Everyone has a photo with that stranger in the background, a car driving by, or house behind us under construction.
Wouldn't it be nice to be able to take those unwanted images completely out of your picture, erase your entire background, or even change your background to make it look like you are somewhere else? Well, now you can do it all quickly and easily with Photo Clip.
InPixio Photo Clip Demo.
Launch Now!
---
I've been using Snagit for years and it literally gets better with each update. Some updates are free as part of your purchase but when it's a major upgrade then you have to buy a new one. This is a major update. What can it do? Capture your entire desktop, a region, a window, or a scrolling screen. (yes a scrolling screen not just what you have on your screen) You can even remove things within your capture. Don't take my word for it have a look (make sure you watch the video) and you can even try it for FREE. Find out more HERE
---
Webinars
---
Privacy: How to Protect Your Information Online
No Purchase Necessary
October 23th Webinar


Privacy: How to Protect Your Information Online
Presented by; Judy G. Russell JD, CG, CGL

Wednesday; October 23th
Protecting privacy online is a continuing concern. Family historians need to decide what personal and family history information we'd like to keep private while still sharing with cousins and other researchers. Learn more about what controls online privacy and what methods and tools are available to give us the best chance to protect our privacy choices.
Sign up for the webinar HERE or you can watch for 7 days after HERE
---
---
Watch Legacy Family Tree Videos When You Want
With literally hundreds of videos on just about every topic you can think of related to genealogy and DNA a subscription to Legacy Family Tree Videos just makes sense. Find out more HERE
---
---