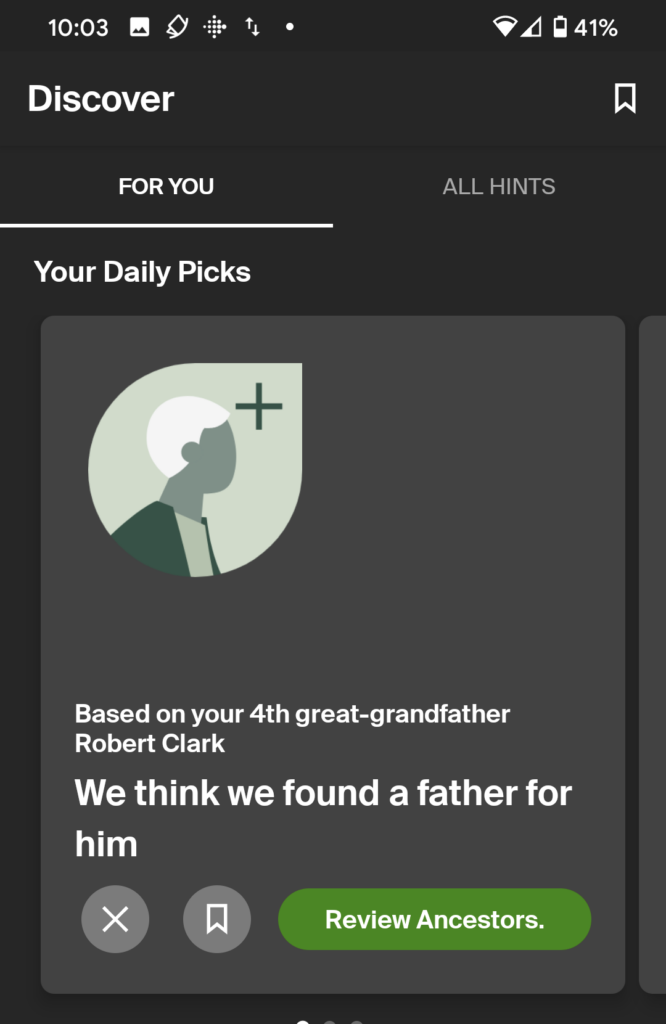 #AncestryPartner
When someone asks me how much time I spend working on my genealogy, my usual response is, "if I'm awake, I'm doing genealogy," and that's really not that far from the truth. I do have to admit that when it comes to my smartphone, I have the Ancestry app, but it's for those times when I'm at a family event, and someone asks, "when was Auntie Ronnie born?". Or "How old were grandpa and grandma when they passed away and by the way… when did they pass away?".
As more and more people live their daily life on their phones, it's good to know that Ancestry is asking their customers what they are looking for from their app and then making changes to enhance the customer experience. I heard there was an update coming to the Ancestry app, and I got a chance to give it a try, and here's what I found.
Each day as you open the app, you will go to the Discover tab (as seen in the photo above) where you'll see Your Daily Picks. These are three of your newest Ancestry finds chosen for you, and as you review, you can decide to either add them to your tree or disregard.
My first Daily Pick was for a man named McHugh who had a wife Muriel and although I have a McHugh and a Muriel married to one another they weren't my people. So I just rejected the record and it was removed from the day's picks.
My next two picks were for people that were in my tree. One was a photo of my great uncle's second wife, Fanny Pullen, and the other was a transcription that someone had provided for an obituary for Samual Pendergraft. Because I knew that the information was correct, I could easily add these things to my tree right from the app.
Once you've completed the tasks, you get a message telling you that you've reviewed Today's Picks and to check back tomorrow for more hints.
I believe that taking a few moments each day to look at these special hints will help manage the hints that I have. To be honest, just in this short time, it's become a bit of a personal challenge each day to take a look at the hints and see what I can learn. Of course, if I want to see all of my hints, it's easy to go to the "All Hints" tab.
The other thing I really liked about the Ancestry app is the new look for the tree view. I especially liked the change to the profile avatars for those ancestors in my tree that don't have a photo. I also felt that the entire view was much easier on the eyes. You can see the new look below. Your view may differ depending on whether or not you've set your smartphone to dark mode as I have. But the updated app works well in both modes.
Record hints are a great way to find records that you might not have been aware of. I'm always careful to do my research to ensure they are my people but I've found a lot of info that I might not have found quite as easily. So if you like using them too you'll be happy to know that you can access all your hints from the Discover tab.
There is also a change in the avatars when you add family. Aren't they cute? I can see how these new avatars give people more options to represent their family, in a way they would like them to be represented. Ancestry tells me there's, even more, to look forward to down the road! I can't wait.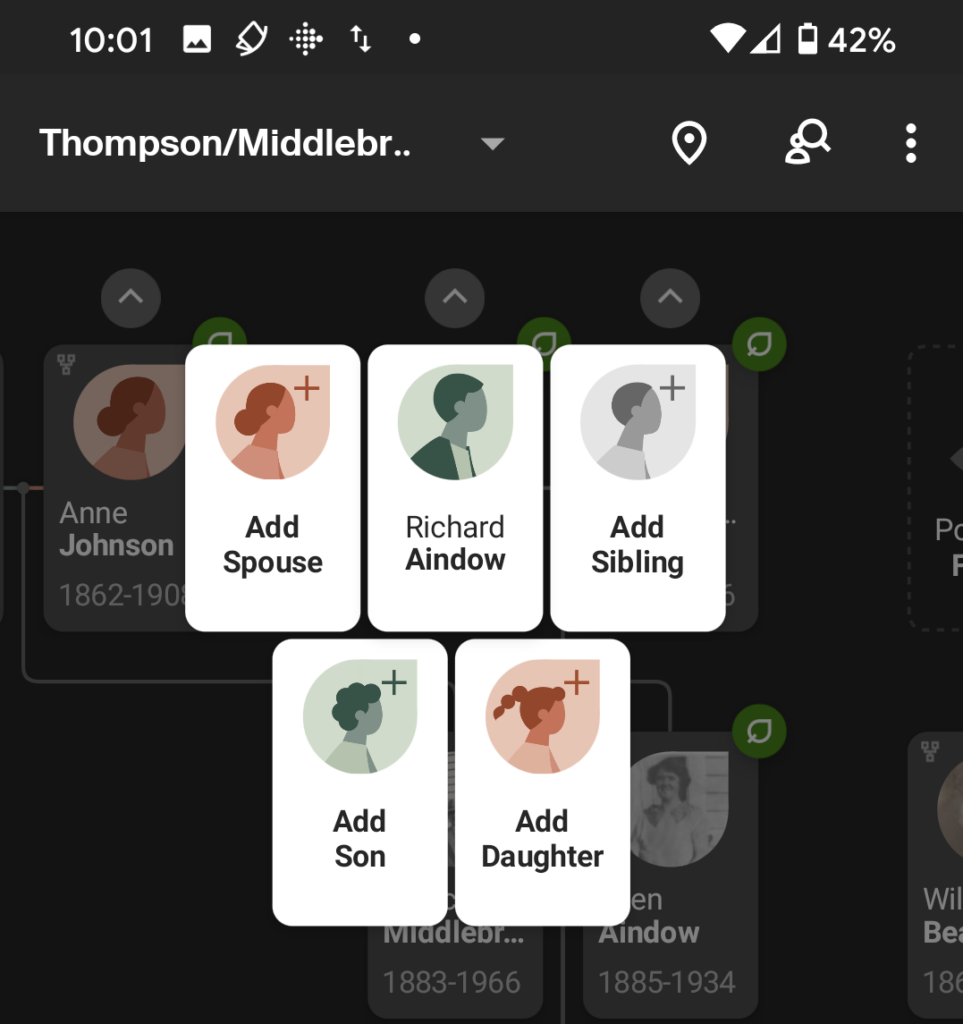 If you want to search for records from the app, you can do that from the profile of the ancestor you are researching.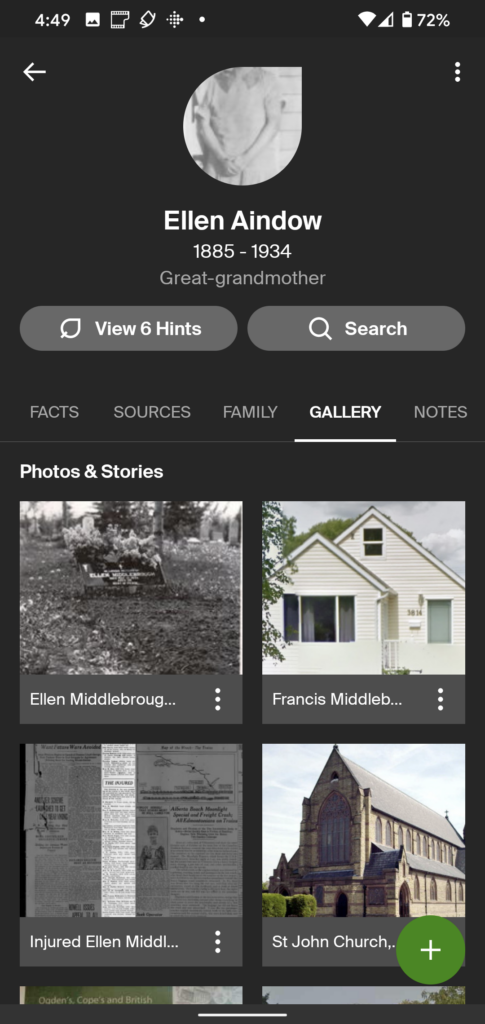 Or you can go to the bottom ribbon on any page you're on in the app and use the search eyeglass.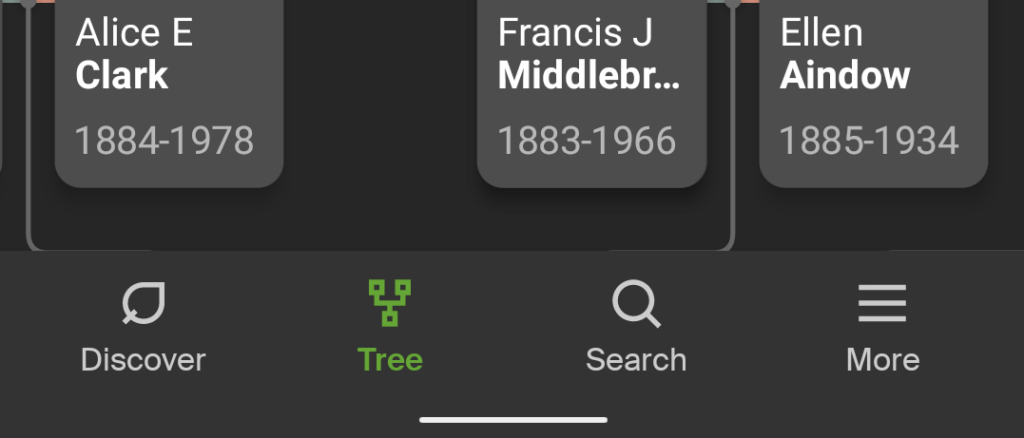 When searching, you can add the information for your search and even add events and family members. I find that sometimes "less is more," so sometimes I start out with just a bit of information, and then if I get too many search results, I add additional information to refine my results to something more manageable. By starting this way, you don't put so many search terms in your initial search that you end up with no information.
I really like the look and feel of the app update and just how easy it is to use. I think I might be able to fit even more time in my day for genealogy—wink wink.
So I encourage you to update or download the Ancestry app on your smartphone and see what discoveries you'll find. You may not see the new version 12 in your app store until early next week.
#AncestryPartner