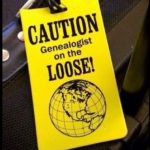 I'm not the first person who's gone on a genealogy road trip. You only have to Google those words and you will find 73,000 links to information about that subject. But my next genealogy road trip is a bit different because I'm on the road to the upcoming Ontario Genealogical Society (OGS) conference called; Genealogy on the Cutting Edge being held in Toronto; June 3-5, 2016.  Granted I'm sure that there are many people coming from across Canada and the U.S., and perhaps farther, as genealogy conferences are one of the best ways to meet like-minded people. People you can speak to in "genealogical speak" and they won't roll their eyes and have that "oh, here she/he goes again" look. It's an opportunity to learn new things from interesting speakers and a chance to go to the marketplace and find products, services and resources that you might not have known about before.
That's exactly the reason I'm heading to the OGS conference, my store; Shop the Hound is one of the vendors at this conference.  My husband and I will start the 3,472 km trek from Alberta to Toronto. You see, we are going via RV to the conference; and why not? We both have family living in Ontario,  so why not make it an opportunity to check in with everyone we are related to. So first the conference and visiting with my son and his partner in Toronto as well as Kevin's sisters and their families. Then off to Fenelon Falls and Lindsay to visit my husband's uncles. Then a couple of days stop in Deep River to visit my husband's brother who has a place along the Ottawa River and finally a visit with Kevin's two children in North Bay. As you can imaging it will be a whirl wind trip but that seems to be how we roll and we both enjoy travelling and seeing different things. Thankfully we both think that there is always something interesting about every stop along the way and even the smallest of places has something special about it.
So let the countdown begin with only 4 days until we leave.  I hope that you will follow along as I post on Instagram, Twitter and of course; Facebook  ,#houndonthehunt.  There is nothing more exciting that getting out on the open road.