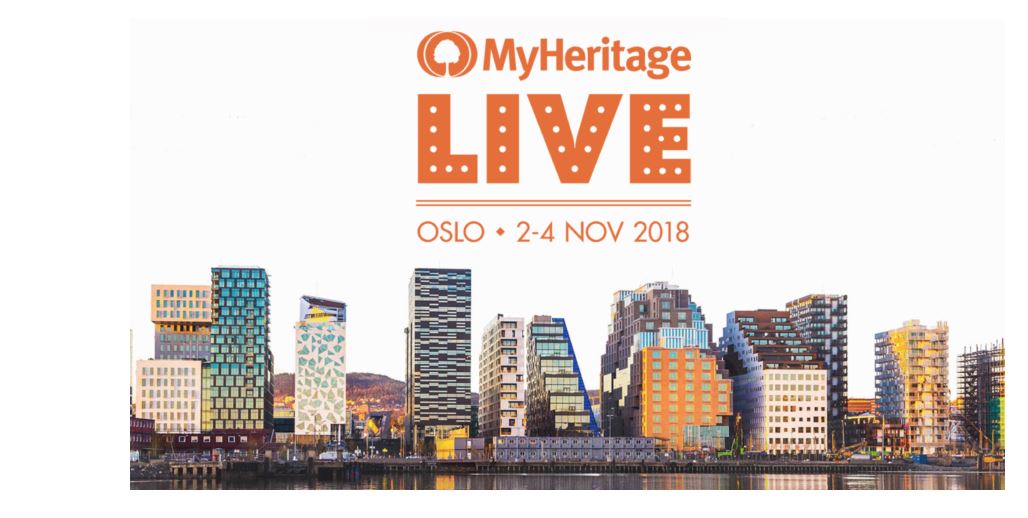 The first ever MyHeritage Live will take place in Oslo, Norway, November 2-4, 2018 and I'm happy to say that I will be attending along with my husband; Kevin.
If you're not able to attend in person you'll still be able to follow the Genealogy and DNA tracks via live streaming on the MyHeritage Live conference website. Tune in 9:00 a.m. Oslo time on November 3 (time zone calculator here).
There are three tracks with two being live streamed;  Genealogy, DNA with 20 speakers. Speakers such as;
Gilad Japhet, Founder, and CEO, MyHeritage
Prof. Yaniv Erlich, Chief Science Officer, MyHeritage
Maya Lerner, VP Product, MyHeritage
Geoff Rasmussen, Founder, and Host, Legacy Family Tree Webinars
Dick Eastman, Founder, Eastman's Online Genealogy Newsletter
Thomas MacEntee, Founder, Abundant Genealogy
Diahan Southard, Your DNA Guide
Roberta Estes, Founder, DNAeXplained
Lisa Louise Cooke,  Founder, Genealogy Gems
Mike Mansfield,  Director of Content Operations, MyHeritage
Daniel Horowitz, Genealogy Expert, MyHeritage
Mike Stangel, General Manager, Geni.com
and more 
The DNA Angel Project™ – October Edition
The DNA Angel thought it would be great if the October Edition of The DNA Angel Project had a MyHeritage flavor. So we're giving away a MyHeritage DNA kit and MyHeritage travel pillow, compliments of Shop the Hound. The value of this prize is over $100 US (approx $130 Canadian). 
To find out more and to enter click the button below. I'm always looking for new cousins.