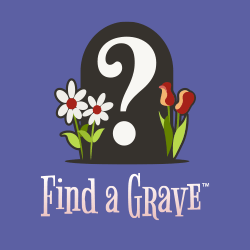 If you've searched on Google or on Ancestry, then you've probably seen memorials on Find A Grave. I've seen them, and I've used them often for the information they contain. (Of course, you want to be sure to confirm information found at Find A Grave before you add it to your tree.) I do have an account at Find a Grave, but this was more about putting my mother, father, and grandparents on the site to own the memorial.
Find A Grave was created by Jim Tipton in 1995 in Salt Lake City. Just like many of us, Jim liked going to cemeteries, specifically those that had celebrity burials. Later, Find A Grave was expanded to non-celebrities, and that's when I heard about the site, and then in 2013, it was bought by Ancestry.
So why am I talking about Find A Grave? Well, it's getting warmer outside, and the snow has melted, so I wanted to do more things outside. But the Covid 19 numbers are getting higher in my province of Alberta, and I want to continue to isolate, but I'd like to be outside and do something. That's when I realized that there were photos that needed to be taken for Find A Grave. My smartphone told me that there were 162 photo requests at the 25 cemeteries near me. So I thought, why not help out?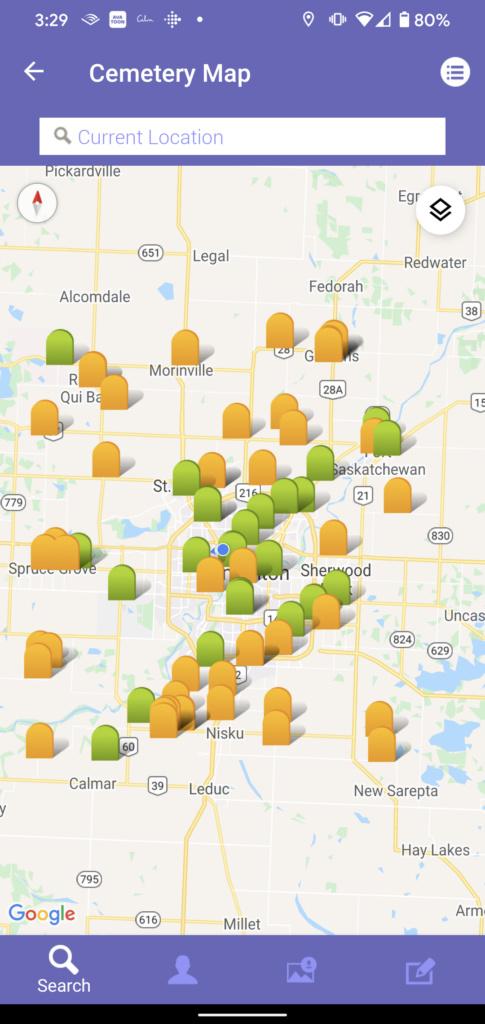 I clicked on the box that told me how many requests there were, and it took me to a map. The map shows orange and green grave markers, which represent cemeteries in my area. The green markers are all the cemeteries that have photo requests. So my plan is to start with one cemetery and work my way through the lists. When you go to the three lines in the upper right-hand corner (on your PC or Mac), you see a list of the cemeteries that appear to be sorted with closest to you and then moving out. There are actually nineteen at St. Joachims Cemetery, where my great grandfather, Francis Middlebrough, and my great grandmother, Ellen, are buried. So that's where I'm going to start.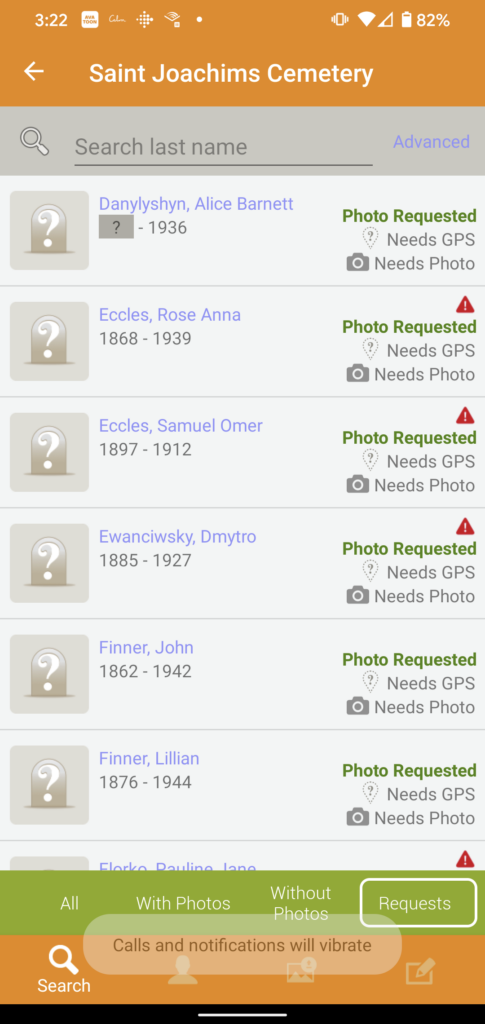 Once I went to the list, I can filter by which ones need photos, which ones need GPS locations, and which need both. When I clicked on the GPS list, I realized that the list is much longer. So I'm going to stick with the photo requests (for now) and always add the GPS location at the same time to be efficient. I found that this is achieved when you take a photo and your location has been enabled. To add only a location, you can do so by dropping a pin at the grave's exact location.
At first, I'm not sure if I'd made a good choice in choosing St. Joachim's because they don't have a website to provide plots, but then I realized if I click on the listing on Find a Grave, some of them actually gives a plot number. Now I just have to get a map of the layout of some of the cemeteries, but in the case of St. Joachim's, I have one. I also noticed that some of the listings have little red triangles, and I quickly realize that this represents ten issues. On the app on my phone, it's not apparent what the issue is, but when you search from your PC, then when I click on the request, there is tiny orange writing that you can click on and look at the detail of the problems. Most of which was that requests have been made for markers that were not found. I'm not sure whether that's because there is no marker or it was missed by the previous person. I'm going to check with the cemetery office for clarification.
So now my list is down to seven photos. I couldn't tell through the app (at least not that I could see), but when I was looked at the website on my computer, I realized that some of the requests were from 2018. So maybe this won't be easy. But no matter, I'm always up for a challenge, and besides, it's going to allow me to spend some time outside, and maybe I can help someone out.
I can see that you can claim the task of taking the photo, and then you have fourteen days to complete the task. But at this point, I'm not sure whether you should do that or just play it by ear. For now, I'm going to play it by ear, and if it's relatively easy, I'll try claiming some.
If you're still isolating in your area, what are you doing to stay active? I'd like to hear.
Note: Similar to Find a Grave is Billion Graves which I also have an account with. When I checked their site, there were not as many requests, but I will always check and see if I can do some for this site at the same time.