DNA Painter has been around for a while. A while in internet years is not many. I do know that DNA Painter has been around much longer than since 2018 when it won the DNA Innovation Prize at the 2018 RootsTech Conference in Salt Lake City, Utah.
Most people use DNA Painter to paint each of their chromosomes so that eventually you can map each chromosome to ancestors but I've only slightly dabbled with that and at this point.
The page I've used the most at DNA Painter (up until now) was on the Tool page and that tool was the interactive Shared cM Project. The Shared cM Project is a collaborative data collection and analysis project created by Blaine Bettinger. It helps you understand the ranges of shared centiMorgan associated with various known relationships. I have a laminated version that Blaine Bettinger has graciously let me sell on my store Shop the Hound but the version at DNA Painter is interactive so it's a quick way to find relationships and gives me the odds as to which is the most plausible.
Then last Saturday I heard about a new Tree feature at DNA Painter so, of course, I had to have a look. I found out that this new feature had been rolled out to subscribers but hasn't yet been rolled out to the free accounts. That will happen in August (as I understand).
Of course, my FOMO (Fear of Missing Out) kicked in so I decided that this was going to be my reason for signing up.
You can get a 6-month subscription for $30 US or a 12-month subscription for $55 US. One thing that I like about the subscriptions is you can check or uncheck the autorenewal. With a subscription, I'm able to create 50 trees the free version will offer 1.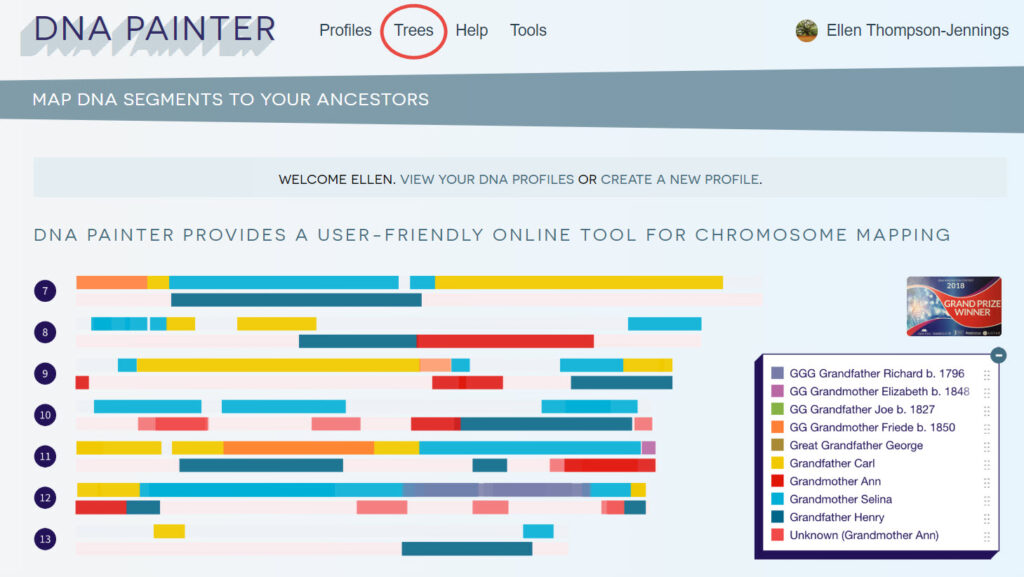 So why did I buy my subscription? Well, the new tree featured allows you to create trees in several different views and creating a tree is super easy.
All you do is go to the top right corner of your screen (after you get your subscription) to "Load a GEDCOM" and the screenshot below shows up.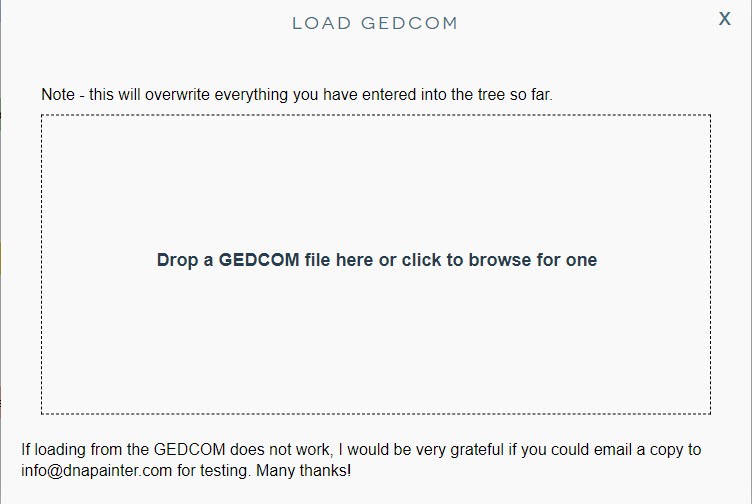 Then you drop a GEDCOM into the box, and within seconds you have a tree. You get to choose whether you including the names of the living people in your tree and how many generations you'd like to bring in. You also can choose who the home person is. (A GEDCOM is a file that can be downloaded from your Ancestry or MyHeritage account or your genealogy program.)
Here's an example of one of the trees I created.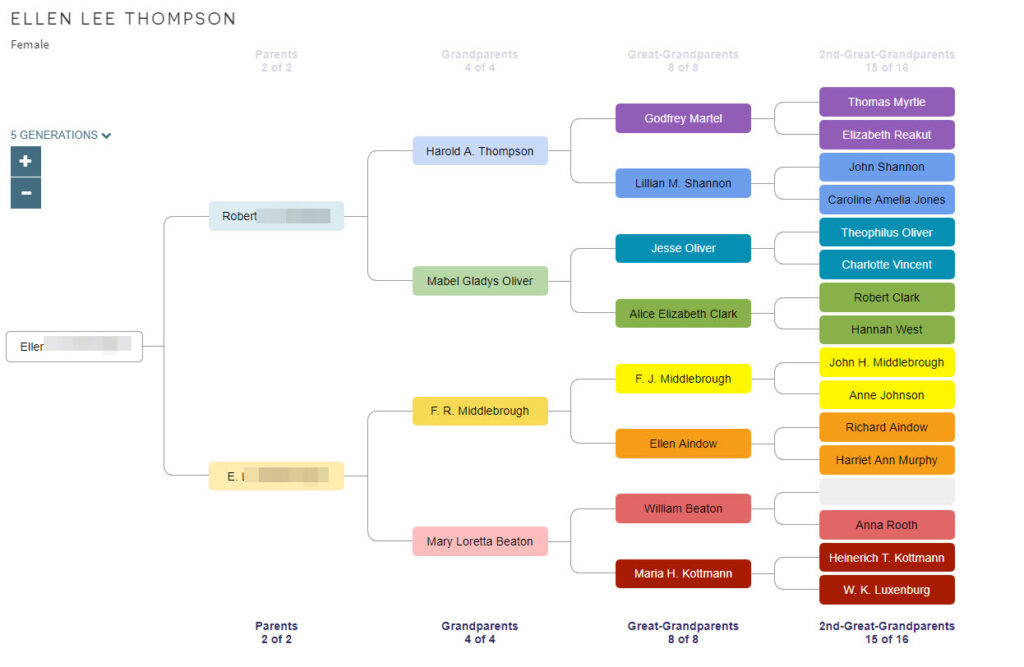 This is only the 5 generation view but I can expand it even more.
I know what you're thinking. I already have that. But here's what I thought was useful.
There are three views and four filters. The traditional view (shown above), the fan view, and the text view. Here's an example of a fan view (below). It gives you a visual of the areas that you need to work more. I can see the Beaton/Batten Mystery and the other brick wall I have on my dad's side.
The filters add a new dimension as well. The filters to choose from are; show genetic ancestors, X-DNA path, mitochondrial path and then for a male tree it shows Y-DNA path.
So if you've wondered about which ancestors you got your X-chromosome from you have the perfect visual.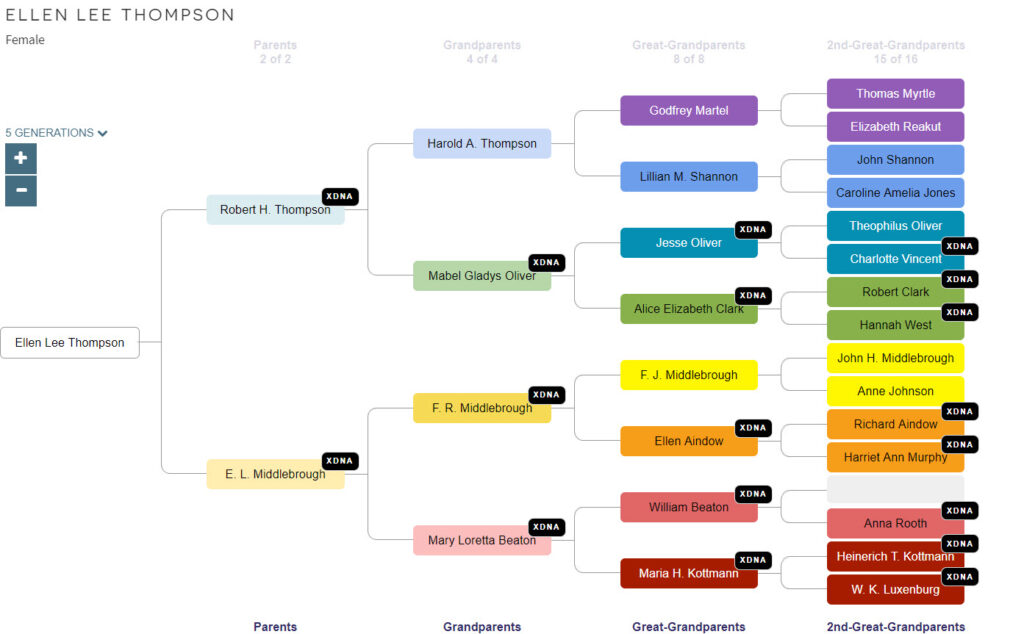 Earlier I mentioned that you could see the completeness of my tree but there is even a completeness button that when you choose it tells you your statistics.
So now when you're thinking how come I don't know who that 3rd and 4th cousin is? It might be because you don't have all your lines identified and that where you should be working.
I love what Jonny Perl (the creator of DNA Painter) has done with this site, and I look forward using it more. Hey, I might even try painting. But for now, I'm to busy using this feature and WOTO.
Oh yes, I didn't tell you about "What Are The Odds" (WOTO). That's a whole future blog post. But for now I'll tell you that it's a handy tool in the free version where you can easily create a tree for a DNA theory you might be working on, and then you add the number of chromosomes you have to your matches. Then the program will give you the odds for each of the theories you've created. Here's a tree I created for the Beaton/Batten Mystery.
I know this is small but here's a blown-up view where you can see which line might be my best bet to look into further as the best hypothesis score is 60.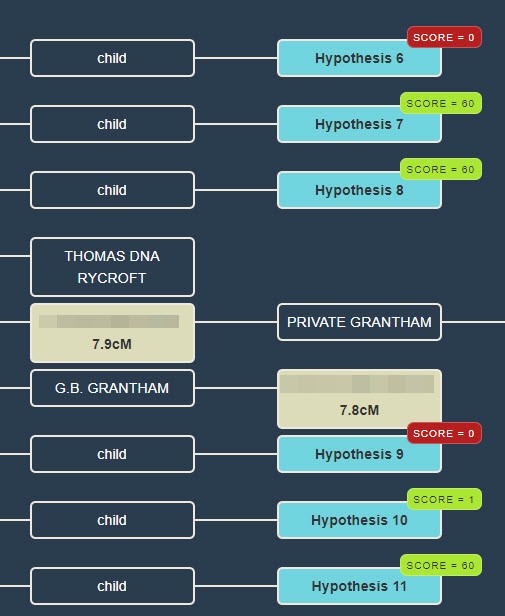 I hope you found this information useful, and perhaps you'll look into these tools for your DNA, and now you also get an idea of what fun I have on a Saturday night. Just kidding… I love it.